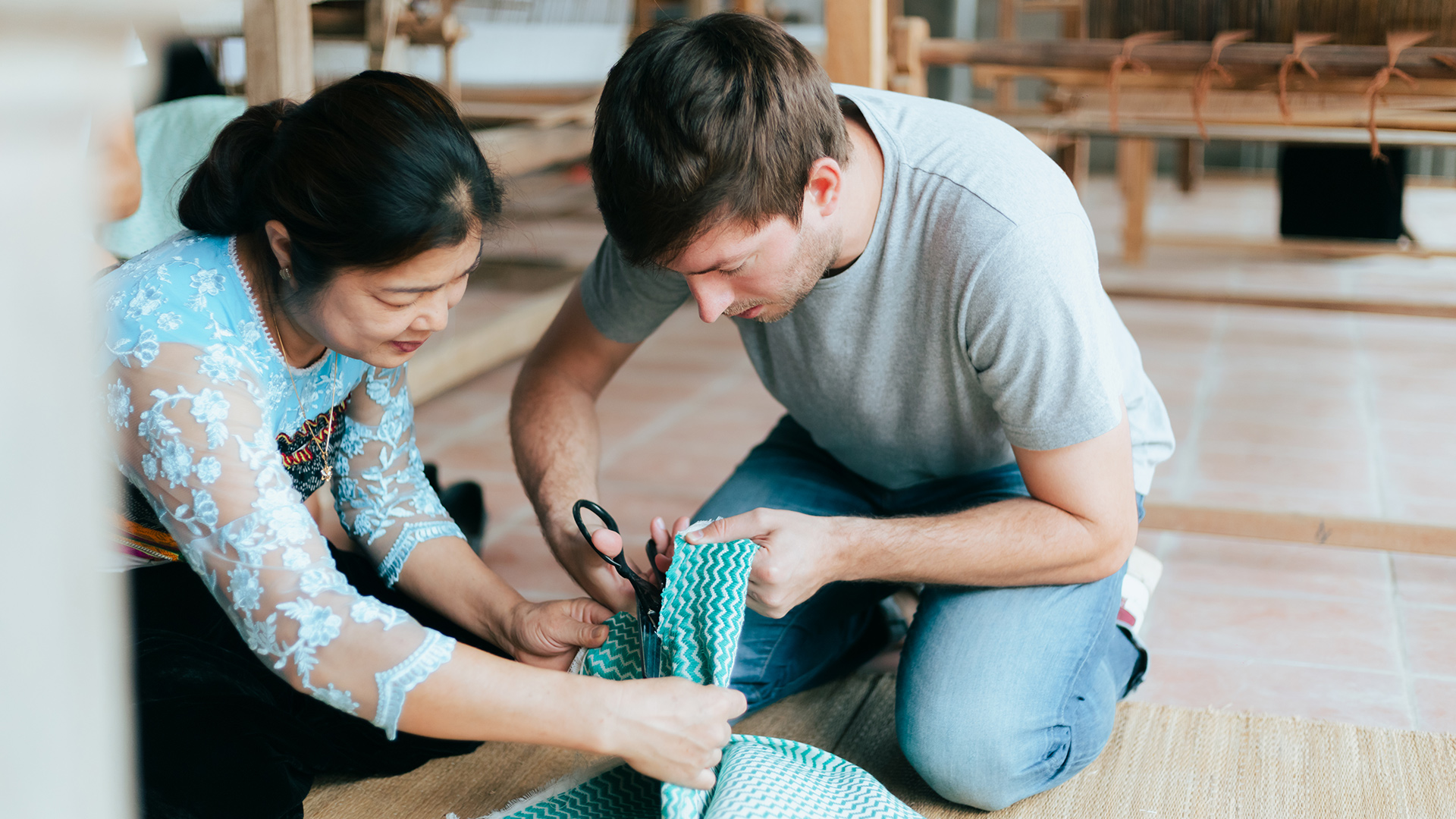 Production
Producing far away does not mean producing badly
Yes, we produce in Asia.

This is logical since N'go was born from the desire to preserve the ancestral craftsmanship of Vietnamese ethnic groups that Ronan (co-founder of N'go) met for 18 months. It seemed coherent to us to do everything in Vietnam. We do not hide anything, especially not in our country of manufacture.

However, the challenge is big. Asia has a bad press and Vietnam is often singled out when talking about sneaker production. The cause? The exploitation, the malpractice, and the abuse of power for years of some famous brands of shoes.
Well-made in Vietnam
It's up to us to prove that producing far away does not mean producing badly. On the contrary.
Our priority is to show the example by putting everything in place to produce well in Vietnam, in the greatest respect of Man and the planet. Obtaining social and environmental certifications as well as the realization of a carbon footprint each year contribute to evaluate our actions and their impact on the environment and the people.
We know our partners in Vietnam very well. Since the beginning, we are in direct contact and have had a deal without an intermediary with each of them to know precisely their conditions and working methods.
Ronan Collin, co-founder N'go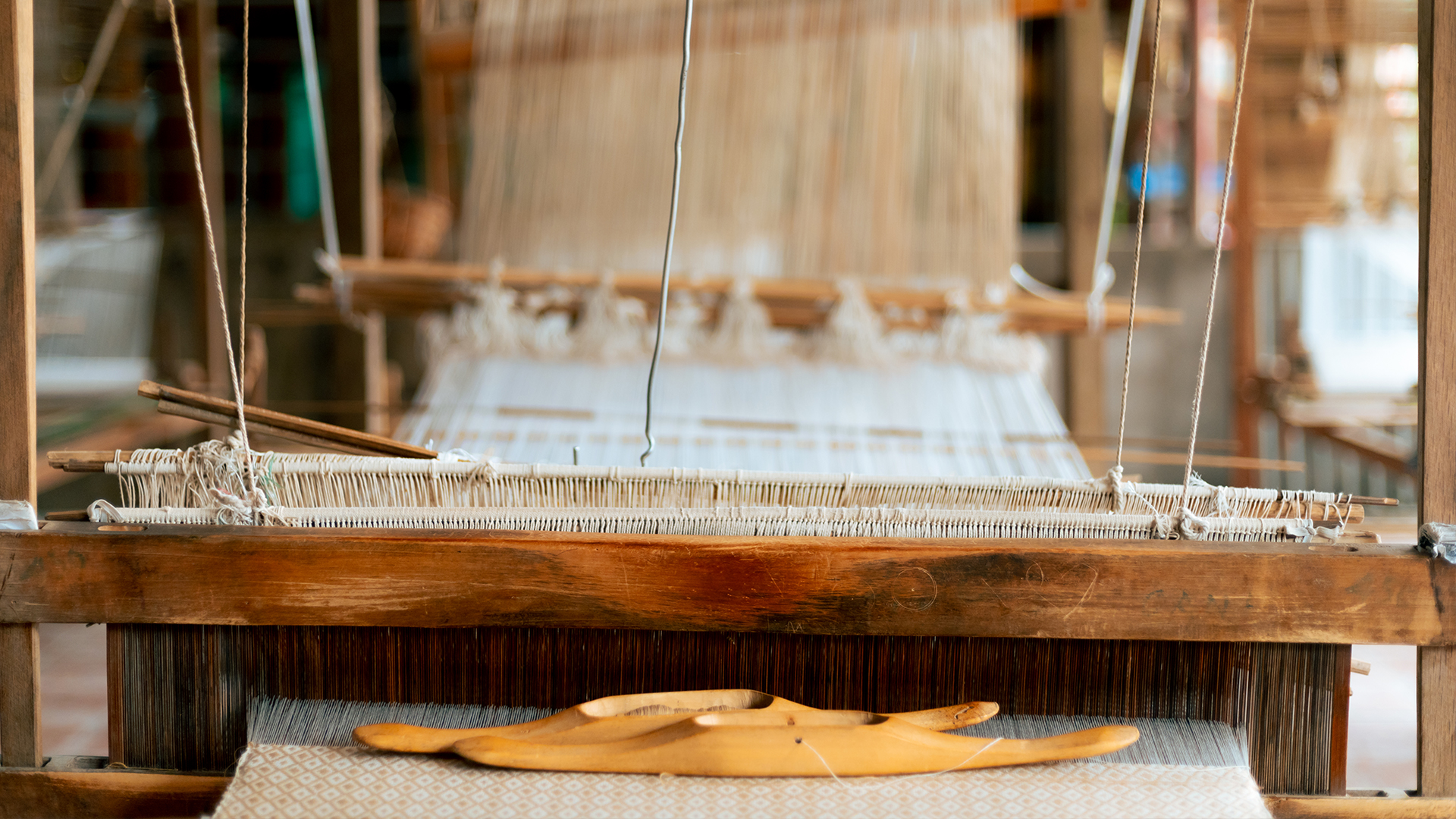 Vietnamese handicraft, the starting point of our story
The N'go project was born from the desire to protect the unique ancestral crafts of Vietnamese weavers. Since 2016, our quest to preserve the traditional weaving methods of ethnic minorities has guided us to several Vietnamese cooperatives with whom a true partnership of trust has been established
Discover our story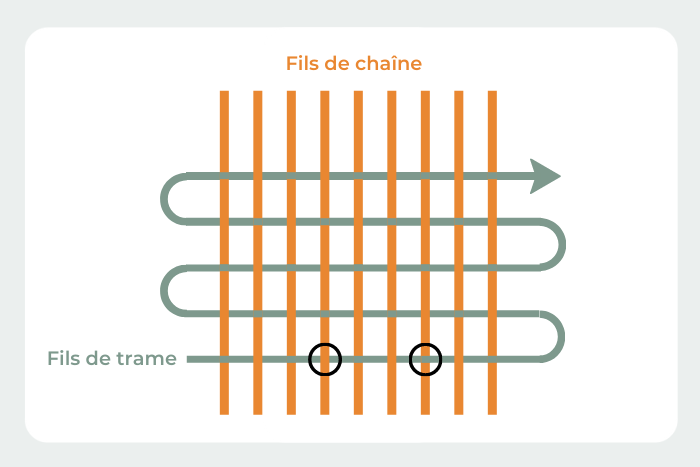 Weaving "pull loom"
Unique weaving techniques
Today, we work with three autonomous cooperatives of weavers with unique and sometimes surprising techniques.
They buy the cotton threads at the local market and receive the colored threads from our COATS partners, which they then install on the wooden looms made by the villagers.

According to the desired pattern, the threads are then crossed horizontally and vertically, thanks to the sliding of a wooden shuttle (rod from which a small spool of threads is unwound) from left to right. This is the principle of "warp and weft" weaving.
All about the craftswomen
The meeting with a Vietnamese ancestral craft
Meet our partner cooperatives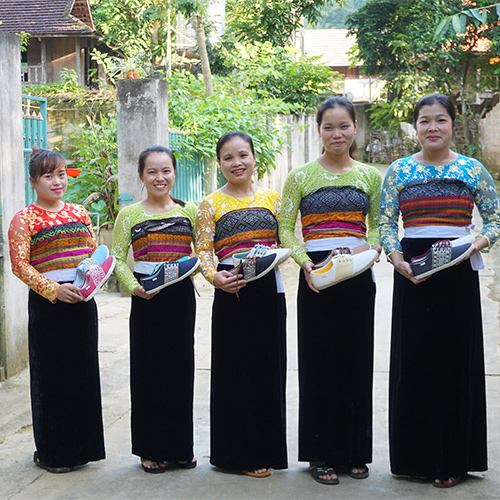 Mai Chau
White Thai minority
30 craftswomen
Collaboration since 2016
Weaving "pull loom"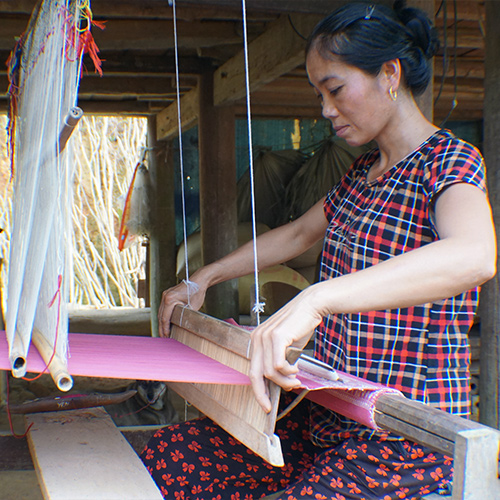 Nghe An
A minority of white Thai
8 craftswomen
Collaboration since 2016
Weaving "pull loom"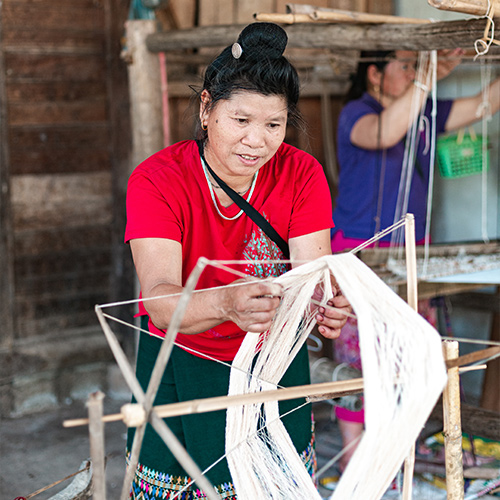 Dien Bien
A minority of white Thai
6 craftswomen
Collaboration since 2019
Weaving "pull loom"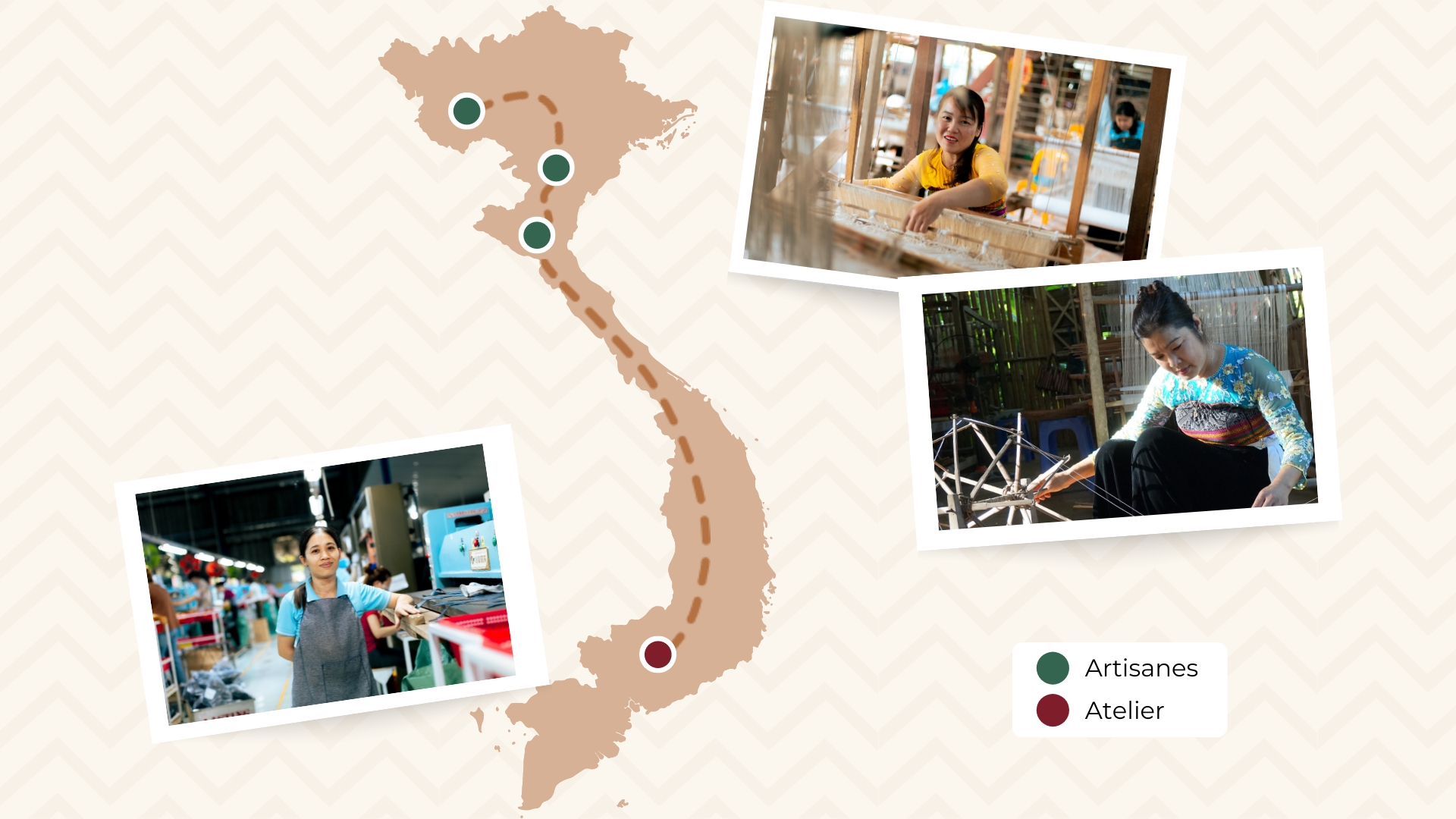 The certified and audited assembly workshop
When it comes to the assembly of our shoes, we have full confidence in our partner from the Dai Luc Dong Nai workshop who has been supporting us since 2018.

This win-win partnership is rich in history; that of two small entities full of ambition and strong in their CSR values who decide to bet on each other to grow together and contribute at their scale to the social, environmental, and educational progress of the country.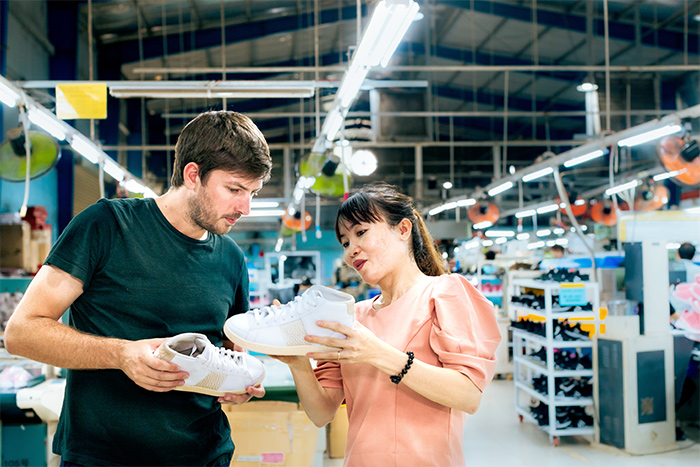 Ronan at the Dai Luc Dong Nai assembly workshop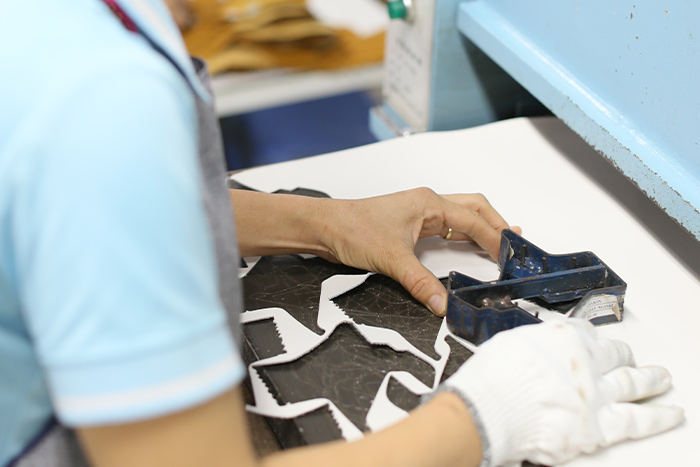 Cutting of leather inserts without chrome
At the beginning of the adventure, the workshop had just opened its doors and was looking for a brand to start exporting. On our side, we were not looking for a manufacturer but for a collaborator to produce our small quantities.

The strength of Dai Luc Dong Nai lies in the know-how of its teams. Each technician, designer, seamstress, and other actors of the company has ten or even thirty years of experience in the field of footwear. This is an incredible asset for a young brand like ours, which has learned a lot from them.
Environmental commitments
Beyond its exemplary professionalism, it is the commitment of this supplier to the field of ethics and the environment that sealed our partnership.
It seemed essential to us to work with a workshop that could attest to the good working conditions, remuneration, and safety of the workers.

In 2020, the factory was audited and certified by Bureau Veritas in order to justify the respect of social standards defined by the UNWTO (World Labor Organization).

Then, in 2022, the workshop was certified by BSCI (Business Social Compliance Initiative) and recognized internationally. This audit is carried out according to the social and environmental code of conduct which includes freedom of association, fair wages, decent working hours, health and safety at work, etc.

This historic partnership helps us to go even further in our commitments. Beyond a simple working relationship, it is a true relationship of trust and transparency that has been established.
Always a foot in Vietnam
We know our partners in Vietnam very well. Since the beginning, we are in direct contact and have had a deal without an intermediary with each of them to know precisely their conditions and working methods.
It is this perfect knowledge of our suppliers with whom we are in constant contact that differentiates us from other brands and allows us a total transparency and traceability of our products. A real guarantee of confidence for us and our customers.

To ensure this constant presence in Vietnam, our team has been reinforced by a Vietnamese shoe engineer based in Dong Nai, not far from the assembly workshop. He is the privileged contact of our suppliers and spends time in the factory to ensure the good progress of product developments.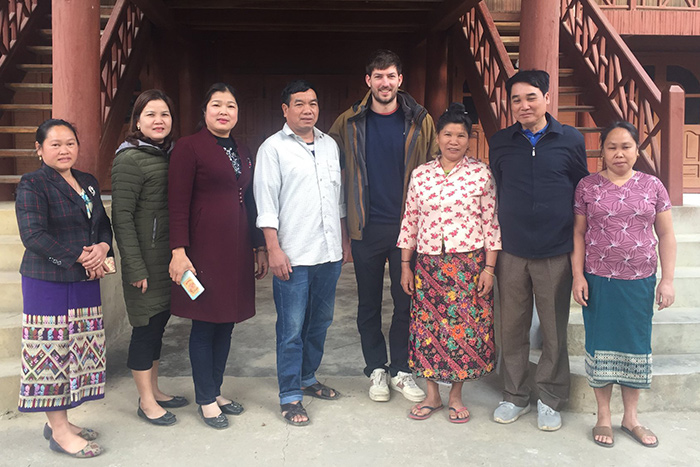 Ronan at the Mai Chau cooperative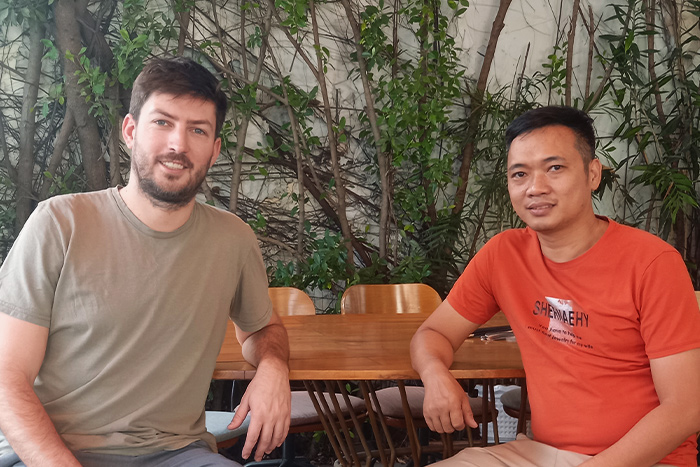 Ronan and Vinh, our footwear engineer in Vietnam