Waterproofing spray sneakers
To effectively waterproof your shoes, while respecting the environment.

Waterproofing spray for sneakers
Waterproofing provides long-lasting protection against dirt and moisture. This PFC-free spray increases the life of your shoes.
Safety instructions: Keep away from children.
Waterproofing : 50 ml
Composition : Polymères
Clean the shoe beforehand. Shake well. Spray evenly and moderately at a distance of about 20cm, and if necessary with the help of a sponge. Let dry.
Our customers are our best ambassadors

Calculated from 6 of customer reviews





08/23/2023
Efficace, enfin un impermeabilisant sans gaz propulseur !
P. Guillemette
Réponse de N'go Shoes
Merci beaucoup pour votre retour sur notre produit ! :) Plus qu'à vaporiser vos chaussures !





07/29/2023
J'en ai mis deux fois de suite, parce qu'on a l'impression de mettre de l'eau. Je n'ai pas encore marché sous la pluie avec mes chaussures. Mais pour l'instant elles ne se salissent pas. Je ne sais pas si c'est grâce au produit
F. Clemence
Réponse de N'go Shoes
Cette impression d'eau est due à la composition. Je vous conseille de continuer à l'utiliser en renouvelant sa vaporisation régulièrement afin de protéger et d'augmenter la longévité de votre paire ! :)





07/26/2023
Imperméabilisant ok
C. Aurelien
Réponse de N'go Shoes
Parfait ! Merci !





07/15/2023
vapo ok, ne coule pas. bonne qualité.
L. Jm
Réponse de N'go Shoes
Vous avez raison. L'imperméabilisation avant la première utilisation, avec un renouvellement régulier, les protégera, évitera la déteinte des couleurs, et augmentera leur longévité ;)





07/12/2023
Conforme à la description
C. Kevin
Réponse de N'go Shoes
Oui, chez N'go pas de triche, on vous dit tout !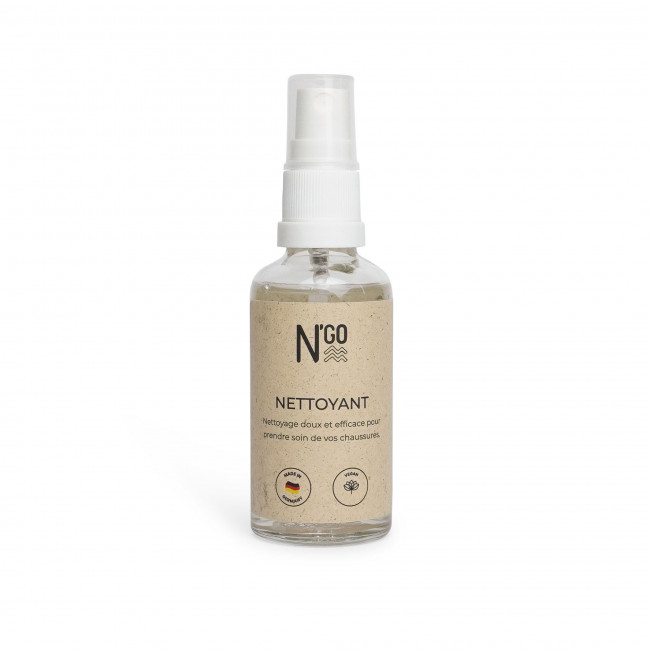 Produits d'entretien
Deod